Have you ever wondered if installing a ceiling TV lift would make a valuable addition to your home? A ceiling mounted TV is different from a wall-mounted or ground-sitting alternative in height or location and is definitely in a class of its own.
The advantages of an intuitive ceiling TV lift are great, giving you ample flexibility, class, and aesthetics in one piece of smart home technology. Whether you place them in the basement, craft, or kitchen, one of the best home luxury ideas is installing a drop-down lift that lowers your TV from the ceiling.
Here's exploring why installing a ceiling TV is the perfect addition to heighten your home's interior decor to a whole new level.
Benefits of a Ceiling TV Lift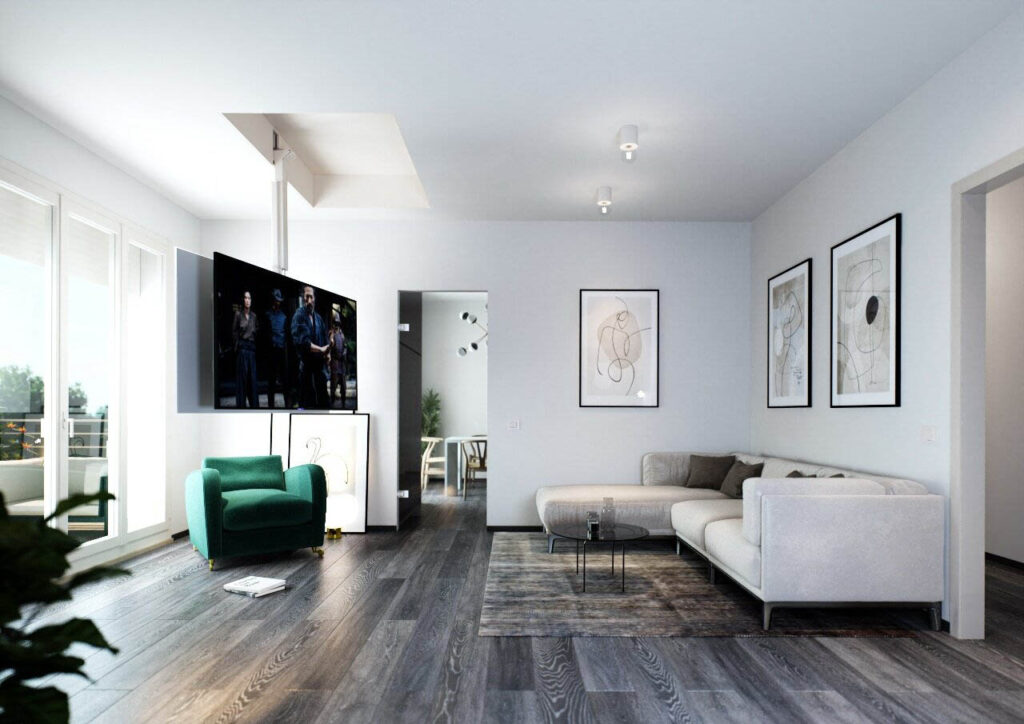 Smart home technology has proven to offer a more efficient, secure, and, of course, luxurious experience than life without it. This experience reproduces itself in the ceiling TV lift system. By only tapping a remote control, you can have your LCD screen drop seamlessly into a preset position and retract away from view when you no longer need it.
Here's a rundown of how a ceiling TV lift mechanism benefits your interior space.
A Ceiling TV Lift Offers Versatility for Changing Room Functions and Layouts
A ceiling TV lift system provides flexibility to changing room functions and layouts because it eliminates all potential obstructions. The viewer(s) can also enjoy 360-degree rotation or a full range of tilt angles based on personal cravings. That means you can watch your LCD screen in any direction, especially in rooms where the layout or viewers may change.
A Ceiling TV Lift Maximizes Visibility
A ceiling TV lift stays above everyone's height so all can view the screen without obstruction.
A Ceiling Mount Maximizes Floor and Wall Space
A ceiling-mounted TV is not placed on the floor. That leaves you with more floor and wall space to keep furniture, storage, or create an extra open feel. This option becomes very important if you want a ceiling TV mounted in a smaller room in the house.
A Ceiling TV Offers a Trendy, Sleek Appearance
Mounting a TV on the ceiling will give your space a sleek, and streamlined hi-tech appearance to your room.
Best Places to Use a Drop-Down TV Lift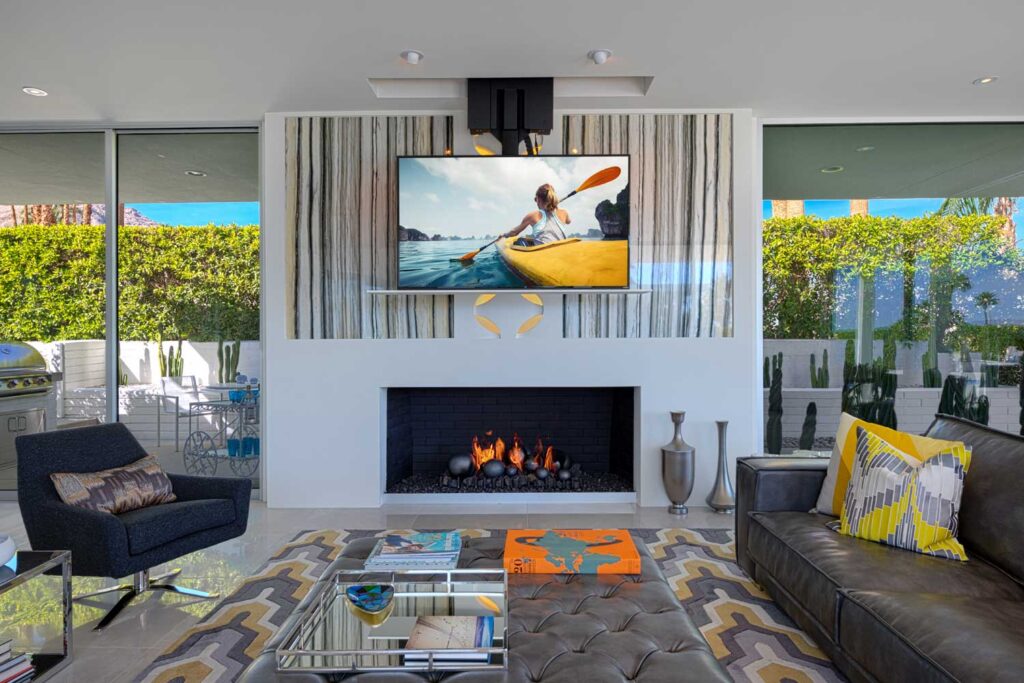 Modern TVs have moved from being confined to the living room to nearly every corner of the 21st-century home. Smart home technology and the increasing need for comfort have inspired homeowners to find new locations for new TV innovations like the drop-down TV.
Here are some great places to enjoy the luxury of a retractable TV.
Bar & Wine
Wine Cellar
Game Room
Home Office
Basement
Craft
Library
More Rooms
How to Choose the Right Ceiling TV Lift Mechanism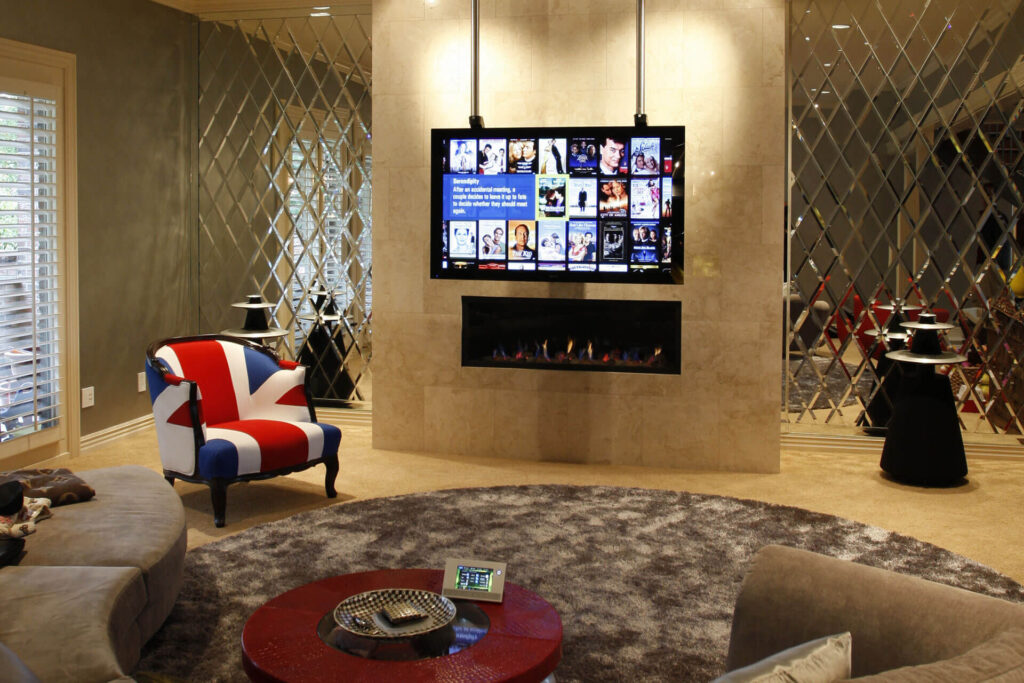 Most ceiling TV lift systems' manufacturers have varying models with unique specifications. Often, each model helps to fit specific home designs, customers' preferences, and smart home technology installation. Check here for more details on TV lift mechanisms.
That means you'd want to have the proper parameters in place before purchasing a ceiling TV lift system for your home. The three most important factors to consider when selecting the best TV lift mechanism for your unique home application include:
The compatibility of your ceiling TV size
An ideal viewing height
The size of the current installation
TV Size
Ceiling TV sets come in various sizes and compatibility. But the perfect TV size for your interior space depends on the mounting hole dimensions and travel length.
Generally, you can mount your TV onto a lift that matches your equipment's mounting hole standards (based on Video Electronics Standards Association standards). VESA standards typically come as 230mm x 230mm, for instance, to show the mounting hole's width x height dimensions.
Another consideration that affects your perfect TV size is the length of travel. Your TV's length of travel should be longer than the TV's height. So if the TV will be completely hidden when not in use, you'll want to buy one with a longer length of travel than the TV height. For example, you could need a ceiling TV model with a 30″ length of travel when purchasing a 28″-length ceiling TV.
The same considerations apply if you want to use an upright lift that will be hidden in cabinets. Of course, if you don't want a fully retracted or hidden ceiling TV, that changes your application of this rule.
An Ideal Viewing Height
Here's a brief extension from the last consideration. Your TV's length of travel should also coincide with your ideal viewing height. That means you might need longer ceiling TV length of travel to comfortably watch your favorite shows anywhere in the house.
The Size of the Current Installation
After determining the perfect TV size and ideal viewing height for you, it's time to examine the entire ceiling TV installation to have enough space above everyone's head for a drop-down from the ceiling. Of course, your ceiling TV lift mechanism might include options for regulating how low the TV drops. But you'll want adequate space below a ceiling TV for possible walk-throughs to have a safe and convenient experience.
Another installation consideration you'll need to make before installing your TV onto the ceiling involves how you want to get the cables to the system. Regardless of your chosen brackets, ceiling TV cables usually have a system that hides the cables inside the TV or hollow tubes that hold them alongside the dropping TV.
You also want to note what electrical connections are necessary for your TV screen. Every TV needs a source of electricity, which means you might need to install longer wires through the attic or hire an electrician to install an electrical socket near the mounting location.
Conclusion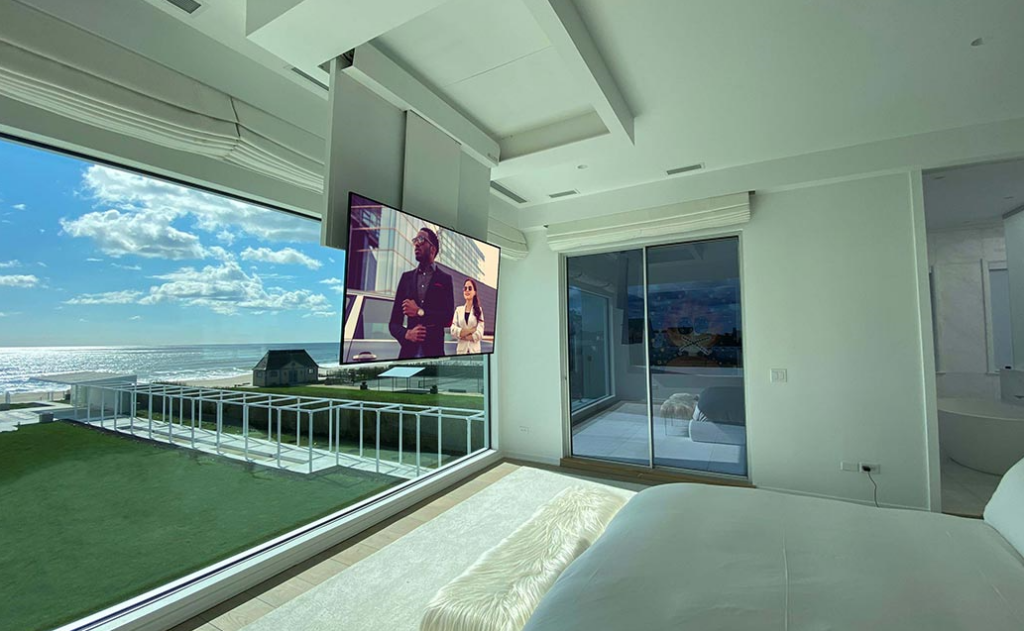 Modern TV lift technology has made it easy to place your TV in the kitchen, wine cellar, and open-air terraces – in a classy way. By choosing an automatic TV lift mechanism that fits your room's size and complements your individual preferences, you can position your TV in an effective, trendy, and creative way.
Whether you're refurbishing the bar, kitchen, or other rooms in the house, a ceiling TV can be the perfect addition to your home anyday, anytime.