Ductless air conditioner is a go-to option for a small room where you do not need to convert the air into cool air centrally. It is just like your regular central air conditioners without any ducts.
A ductless air conditioner can be easily fit in an old built house or any space where you need. The size of your ventless air conditioner depends on the size of your space. For instance, if you have a space of 150 to 200 square feet that needs to be cooled down, then you can choose an air conditioner with the capacity of 6000 BTUs in per hour.
However, to lessen your struggle to find out the way how does a ductless air conditioner work, I am here to guide you along with some advantages and disadvantages of the air conditioner.
What Is a Ductless Air Conditioner?
A ductless air conditioner is the air conditioner that does not require any duct to perform their operation. These types of air conditioners are very easy to install and give better results than traditional central air conditioners.
According to This Old House Insider, ductless air conditioners can easily control the air of a certain zone when it is necessary which implies that it is very convenient to use.
How Does A Ductless Air Conditioner Work?
As the name says it all, a ductless air conditioner works without any help from ducts. There are several types of ductless air conditioner, but the main mechanism of each air conditioner is similar.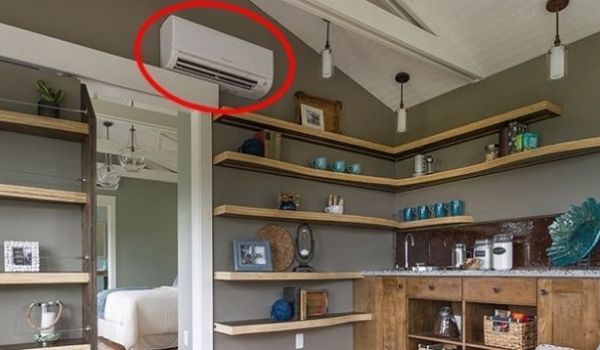 A ductless air conditioner does not need any duct because it does not require cooling down the whole house at a time. It can only cool down one room's space. Every ductless air conditioner has 2 units- indoor and outdoor units.
Before knowing how a ductless air conditioner works, we should know the functions of these components. The functions of the components of both indoor and outdoor units are given below.
Indoor Unit
Indoor unit has 2 components. These components basically circulate the warm air inside and pass the moisturized cool air into the room.
A blower unit
This part is the vital part of the air conditioner that is fitted on the wall of the room. It is 3' long in length and thin in size.When it is switched on, it takes in all the hot air inside and then moisturizes the air and leaves the cool air into the room.
A conduit
A conduit is the pathway that takes in the heat from the air from inside and passes the air to the condenser. Basically it is the connector between indoor and outdoor units.
Outdoor unit
Outdoor unit basically consists of a compressor, heat exchanger coil and propeller, altogether it is known as a condenser unit. So, this unit is often called a 'condenser' which is inserted outside of the room.
A condenser
Condenser is more like a bin. Here the heat of the indoor air is absorbed and then dumped outside. It takes away all the heat that the room's air was filled with. It is comparatively larger in size, but it is fixed outside of the room. Thus, it does not require any large space to keep. So, these are the functions of the components of indoor and outdoor units. Let us know how it works all together. First, the blower unit takes in all the hot air into it and sends it into the conduit unit. In the conduit unit, the heated air is separated and passed to the condenser unit. Condenser units take out the hot air and release it into the environment. On the other hand, it moistures the air and sends the cool air to the blower unit again. Thus, the room gets filled with cool air. This following youtube tutorial will make it clearer to you. So, take 4 minutes to get the better idea.
Advantages And Disadvantages Of A Ductless Air Conditioner
Like other home appliances, ductless air conditioners also have some advantages along with disadvantages. Some of them are mentioned here.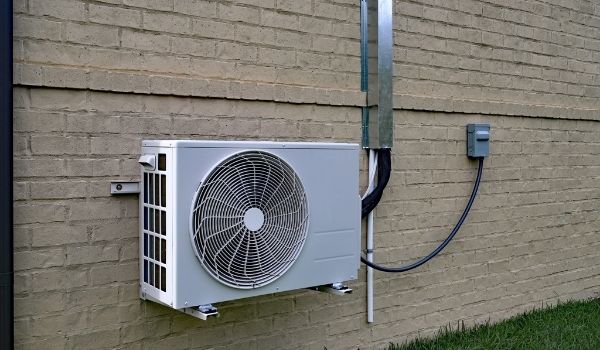 Advantages
More energy efficient.
Can be used both as a heater and cool.
Performs its operation silently.
Temperature can be controlled according to your comfort.
Provides a better and healthy quality of air.
Does not require much maintenance.
Disadvantages
Does not have a pleasant interior look.
Needs a place to drain cooled water.
Can be expensive.
Does not cool down large rooms.
Are Ductless air conditioners worth it?
Considering the advantages and disadvantages, a ductless air conditioner has more advantages than disadvantages. Except for being expensive, this air conditioner can be your ideal choice for cooling down a room and so on.
Ductless air conditioners are highly functioned. It would really be a wise decision to choose this air conditioner over any centrally controlled air conditioners. You can control your desired temperature according to your choice.
Frequently Asked Questions
How long do ductless air conditioners last?
Answer: Ductless air conditioners last for about 15-20 years. As it is an electric appliance, it can get damaged before the timeline. However, on average, it lasts for a long time without replacing anything if it is maintained properly.
How many rooms can a ductless AC cool?
Answer: A ductless ac can easily cool a room but it can even cool more than a one room if more evaporator units are added to it. Most importantly, you can cool your whole house as it is more energy efficient and keeps the room cooler for a long time.
How big of a ductless system do I need?
Answer: It actually depends on the size of your room. Like, if the area is 150-250 square feet, you will need an air conditioner of 6000 BTUs capacity and so on. So, do check the sizing guide before buying a ductless ac.
How much does it cost to install a ductless AC unit?
Answer: The cost range starts from $3000 to $15000 including all the installation and component costing. However, the cost can be more or less as it depends on the capacity of the air conditioner.
How much electricity does a ductless air conditioner use?
Anser: Well, the usage of electricity is dependent on the capacity of the air conditioner. Suppose, if your room has a ductless air conditioner of 5000 btus, it will need only 600W of electricity to run
I hope you have read the whole article regarding how does a ductless air conditioner work and got all the information you were looking for. The content was written to serve you a proper guidance regarding a ductless air conditioner.
However, there are different types of ductless air conditioners in the market. Before buying any of them, make sure you are well known of the types and choose the right one wisely.