Automotive technologies in our lives are changing the way we live and the way we maintain our homes. Cleaning the house manually is probably the most annoying thing when everything else is getting the touch of automation. Fortunately, robotic vacuum cleaners are here to bring automation into the cleaning process as well. Robot vacuums are the smartest cleaning solution for a home that you can ever ask of.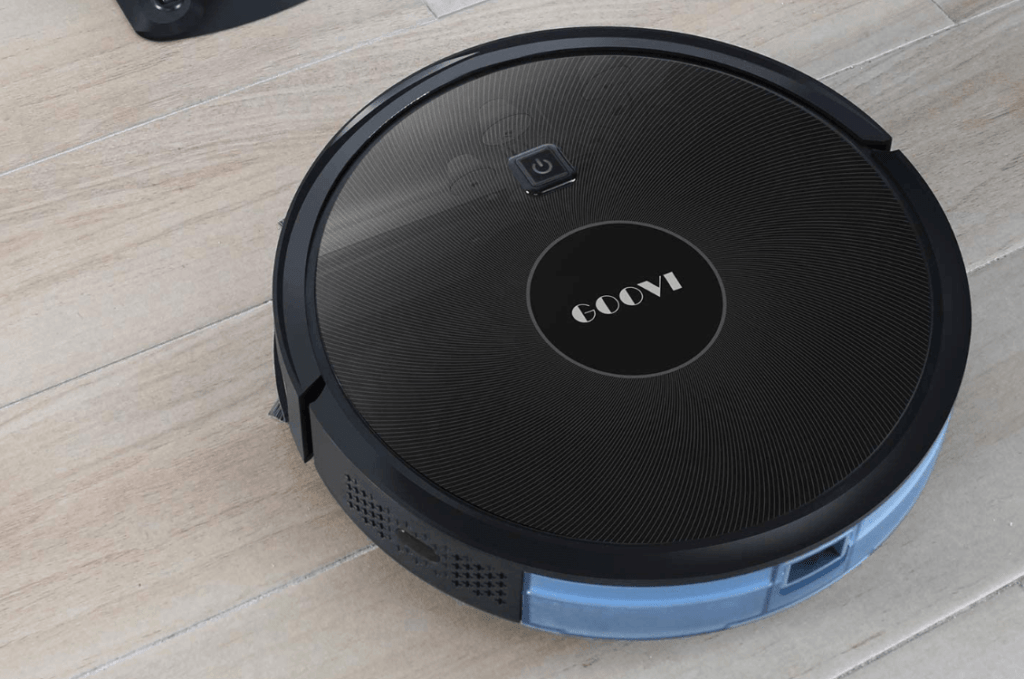 When it comes to selecting the best brand for robot vacuums, Goovi makes some of the best once in the market. However, selecting the right Goovi vacuum can be a daunting job as they have a long list of options in their product lineup. Our cleaning expert team has made this Goovi robot vacuum reviews to help you pick the best one for your home cleaning solution.
About Goovi Robot Vacuum Brand
Goovi is a family product manufacturer that works with a motto of making Good, Easy, and Natural products. They are specialized in home cleaning products, especially automated home maintenance tools based in Italy. Hense they make smart robotic vacuum cleaners that are intelligent enough to take over your cleaning headache.
Table of content
Here are the quick links to the reviews of the products we've selected and each part of the article for quick navigation.
Comparison Chart
If you're short in time and looking for straight features and recommendations for the best selection, follow this quick comparison chart:
Best 3 Goovi Robot Vacuum Reviews
We've selected the best 3 robot vacuum cleaners, and here are the Goovi robot vacuum reviews to help you select the right one for your needs:
1. Robot Vacuum, GOOVI Robotic Vacuum Cleaner (Slim) Max Strong Suction
This Robotic Vacuum Cleaner from GOOVI comes with a smart schedule mode for regular cleaning. No matter where you are or what you're doing, it will automatically keep your house clean effortlessly. After cleaning for up to 110 minutes, it will automatically go back to its dock and charge itself. With its intelligent robotic learning system, you can present the route for the vacuum as well.
Once it has the mapping of your house, it knows how to keep it clean without letting you even know. Whenever a cleanable object falls on the floor, it can track it with its electric eye tracker. No matter where to clean, a hard-reaching corner, or a bump in the floor, it can detect the obstacles or furniture and effectively suck the dust into the vacuum chamber.
For the vacuum absorption, this cleaner comes with a 1600Pa super-strong suction module under the hood. It works without making any sound, so if you have your child sleeping, it's not going to wake him up. If you have a carpet on the floor, it can climb up the bumps and clean the carpets on itself without your assistance.
Main Key Features:
This robot vacuum comes with the dual-gyroscope along with motion tracking sensors.
You can schedule cleaning plans for this robot cleaner for effortless automatic cleaning.
It comes with a quad broom for corner and edge cleaning and spot cleaner as well.
For the charging system, it will charge itself with the included charging dock.
It has an anti-falling technology to keep safe from falling at the stairs and edges.
2. Goovi By Onson Robot Vacuum, 2000pa Robotic Vacuum Cleaner (Slim) Max Suction
This robot vacuum comes with a massive suction power of 2000Pa that will make sure not a single particle is on the floor. It doesn't slip because of the powerful anti-fall and anti-slipping sensors, which makes it one of the best robot vacuum for laminate floors or carpeted ones. It will climb up the carpets easily and clean them effortlessly.
You can set it on an automatic schedule for vacuum cleaning your house and get busy with yourself. It will start cleaning the house on time and store the collections with its .5L large trash storage. It will even keep the corners and the edges of your floor clean with its long, dual-edged brooms. If you don't want to schedule, it has an infrared dust detector that can spot the trash and suck it in.
When you're considering a charging problem, don't! It can charge itself without your help and keep cleaning. All you have to do is, get it to your house, set it up, and map your home for the robot. You can even set the parameters for the cleaning process so that it can keep only the places you want to keep clean.
Main Key Features:
This cleaner has 2000Pa suction power to absorb fine dust to large debris.
It can map your home for automatic cleaning without your assistance.
The vacuum can charge itself with its charging dock when it needs power.
You'll be able to set a timer schedule for automatic cleaning of the robotic vacuum.
It comes with anti-fall and anti-slip sensor technology for stairs and edges.
3. Robot Vacuum, Goovi 1600pa Robotic Vacuum Cleaner With Self-Charging
This Robot Vacuum from GOOVI has a 360° rotating smart sensor that can detect and collect dust and debris from around it. Its dual-wheel will run it smoothly even if there is a thick carpet on your floor, which makes it the best robot vacuum for thick carpet. The cleaner can reach each corner and the edges of the floor and vacuum all the dust and debris effectively.
It comes with an automatic cleaning technology where you can set a schedule for it, and it will start cleaning the floors at that time. If you don't set a schedule, it has infrared dust sensors that automatically detect and cleans the area. For charging, it's still an automatic process where it can charge itself whenever the battery needs a charge.
If you have any furniture or any other obstacles in the cleaning area, don't worry, this robot vacuum can recognize them. It will avoid collision with obstacles and keep cleaning sideways. While cleaning, this cleaner works quite in less than 75 DBs. You can sleep without waking up because of its noise, it's most helpful, especially if you have a kid sleeping in the room.
Main Key Features:
This robot vacuum comes with an automatic schedule cleaning technology.
You can operate it manually with a remote controller or let it clean automatically.
It has object detection, anti-fall, anti-slip, and dust detector infrared sensors.
The battery power of this cleaner can keep it on at work for up to 120 minutes.
It can charge itself automatically when the battery is low without your assistance.
Is This Brand Product Easy To Use?
There are a lot of things that make the Goovi robot vacuum cleaners super handy and easy to use, such as:
All the robot vacuums come with a remote controller that you can manually control the cleaner with.
The Goovi cleaners have super-strong suction power that can help you clean your floor from fine dust to larger debris.
You can rely on the vacuum cleaners to clean the unreachable places like under the couch or above the carpets where hand brooms don't work.
Why Choose This Brand?
Choosing Goovi brand to keep your house automatically clean all the time has some solid reasons, such as:
You can set their robotic vacuum cleaners on an automatic cleaning schedule and forget about the cleaning headache after a long working day.
Whenever a dust particle or even some dog hair or food falls on the floor, the Goovi robot vacuums will detect and clean it instantly.
All their products are capable of reaching the narrow passages to clean and keep themselves safe while a stair or edge up ahead.
Frequently Asked Questions
Here are the answers to the most frequent questions about the robotic vacuum cleaners you should know:
Can a robot vacuum clean multiple rooms?
Robot vacuums can clean multiple rooms if you train the robot and keep the doors open.
Are robot vacuums eco friendly?
Yes, good quality robotic vacuum cleaners are eco friendly.
Are robot vacuums noisy?
Robot vacuums are less noisy compared to regular vacuum cleaners.
Final Thought
Getting a robotic automatic can set you free from the home cleaning headaches. Picking up the right robot vacuum depends on the perspective you have in mind and the type of floor you have. Getting through the Goovi robot vacuum reviews, I hope you've found the right robot vacuum you're looking for.
However, if you're up for expert suggestions, I can suggest you get the GOOVI 2000Pa Robotic Vacuum Cleaner. It has the maximum possible suction power into the bottom to pick up any dust particle or bigger debris you have. It can detect any furniture or obstacles that come into its way and avoid any collision. You can set a cleaning schedule for this cleaner, and it will do its job on time.